Dragonfly and Damselfly Pictures
Be sure to also see our dragonfly picture slideshow and damselfly picture slideshow

and dragonfly and damsel fly photos by well-known nature photographer Stan Lupo
The following dragonfly pictures have been submitted by our visitors.
J Keir - Vancouver, BC, Canada
This photo was taken on July 9, 2006 at Mill Bay, BC Canada – a small town on the west coast – on Vancouver Island. The dragonfly was hovering over the water. The photo was taken with a Canon PowerShot SD500. Too bad about his nose!!!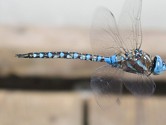 (Click for Larger Image) Image 1 of 1